Today I'm sharing a little story time from this weekend and an awesome, can't miss deal too!
This past weekend while we were on our bi-weekly shopping trip to Sam's Club to pick up all of our must have products and we wanted to take advantage of the awesome deals they have on Huggies® diapers, pants and wipes. Through December 25, you can save $4 off instant savings in the club and then save another $4 through the Ibotta app! $8 total savings! These savings definitely come in handy this holiday season and I love that I can easily pick up a month supply of diapers and wipes in one quick shopping trip without spending a ton of money!
Usually we use Sam's Club pick-up service (so convenient to pick up in the drive thru when all the kids are with me) but I wanted to do a little Christmas shopping while there too. We always buy Little Movers Huggies diapers as they are the best for super active babies and toddlers and they never leak!
***Click the image below to easily save on Huggies diapers, pants and wipes (ships free!)***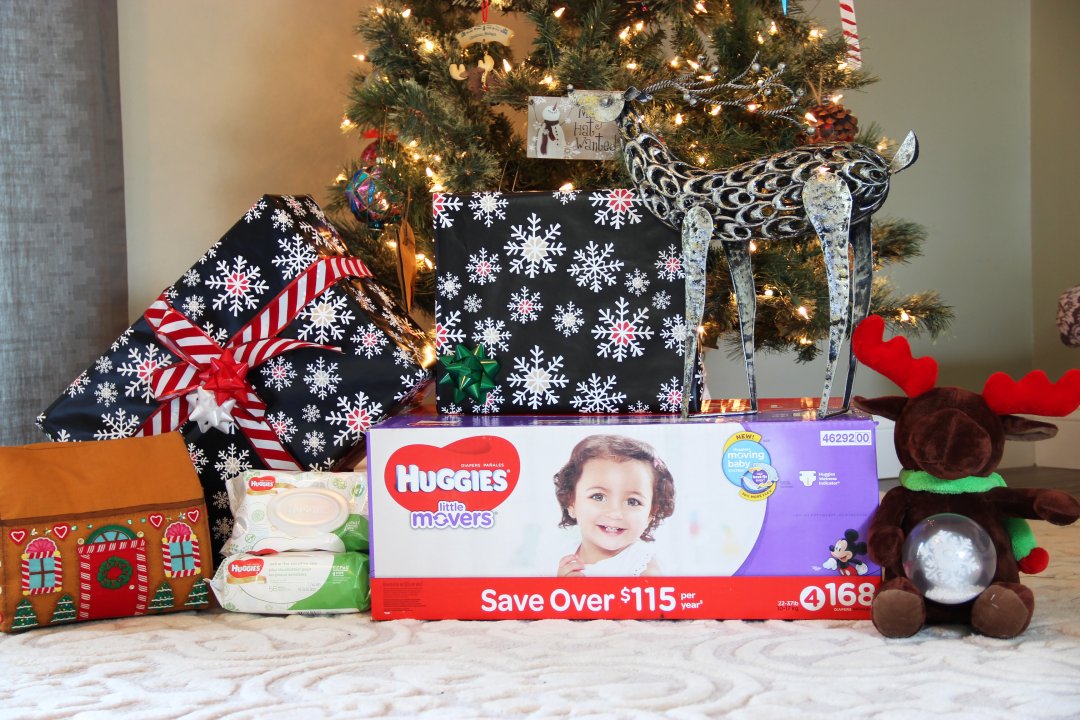 As we walked in, our son stared with wonder at the volunteers ringing the infamous red kettle collecting donations. He had so many questions about donating and helping others and it opened up a wonderful conversation about the importance of giving back and supporting those around us. We continued our shopping trip while picking up all our household essentials and talked about how some families struggle to make ends meet and discussed about ways that we could help other little kids and families this Christmas.
We talked about how some families are in need and how some children don't have nearly as many toys as he and his sister. I've been meaning to go through their toys and donate some, especially as I know that there is going to be a major toy influx with Christmas and their birthdays on the horizon. As we loaded the boxes of diapers in the car, I had an idea for a way to have the children involved in the toy purge and how they could help give back at the same time:
A Toy Donation Box for Santa, plus a super cute printable!
To make more of event of the toy clean out and donation process, the kids and I took our Huggies diaper box(es) and decorated it with Christmas cutouts, ribbon, bows, stickers and attached the printable. For a fun twist, you could have your elf on the shelf deliver the printable "from Santa".  We sorted through all the toys and decided to donate the ones that they don't play with anymore, but still had a lot of life left.
The process went surprisingly smoothly and my son absolute felt such pride knowing that he was bringing joy and happiness to another little boy or girl. Aside from the toys that we purged to donate, I plan on taking the kids to go pick out a few new toys to donate as well. As parents, I think it's so important to show our children to be empathetic and to inspire the spirit of giving and kindness year round.
We had such a great time with this that I see this becoming a yearly tradition. I hope to be able to expose our children to more volunteer and philanthropic opportunities as they get older.
Click the image below or HERE to download the free printable!
Also, don't forget to take advantage of the great deal (save up to $8) on Huggies diapers at Sam's Club (through December 25). You can find a large selection of Huggies products in the diaper aisle!
Do you have any holiday traditions that you do with your child(ren)?
Related Posts