Thank you Village Harvest for sponsoring this post. Every day Village Harvest is planting seeds of change and growing possibilities, one bag of goodness at a time.
The most common thing that I hear most from friends and family that are trying to eat healthier is "I don't have time." I totally understand the time crunch battle. With two little ones that are 4 and under, running my business, my husband working full time at his job and running his side business, family obligations and trying to stop on top of our fitness, we're busy. Somedays it feels like we are rushing from one thing to another with no time to spare. For many families that have both parents working outside the home, finding time to cook a healthy meal becomes even more limited or feels impossible at times.
While I understand the time battle, eating healthy doesn't have to be time consuming or difficult. By implementing a few simple changes into your lifestyle and a little planning, eating healthy is totally doable.
1. Stick To The Basics: Protein, Grain, Greens
When it comes to meals, this is my golden rule: aim for your plate to have 25% protein, 25% grain and 50% veggies and fruit. Meal prep your proteins once a week when you have a some extra time. For us, that usually means cooking up some chicken breasts, prepping a roast for throwing in the crock pot/Instant Pot later in the week and preparing a seafood option by thawing and marinating in a freezer bag for a day or two. Chicken and pork can easily be roasted and shredded to provide many meals, while fish options can be prepared in under 20 minutes for most meals.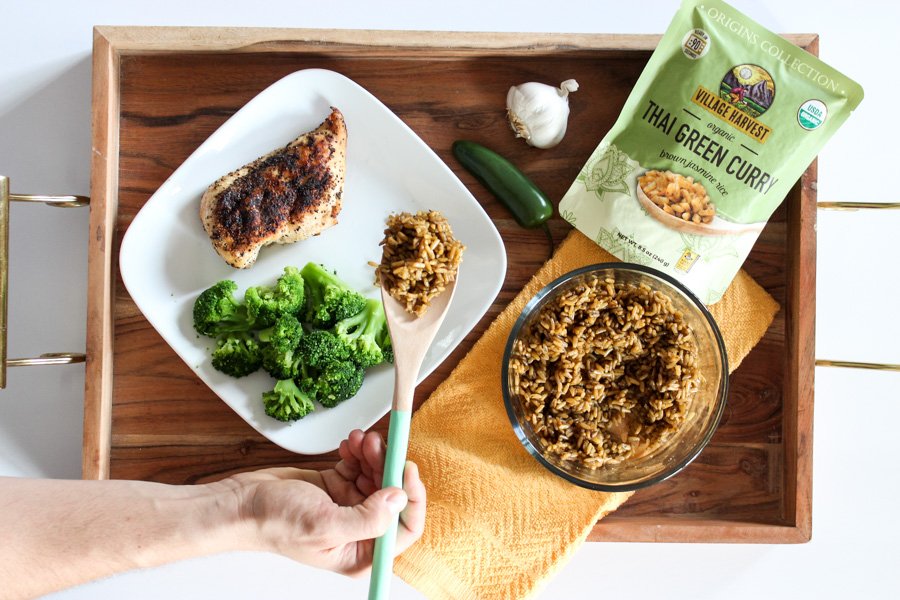 Click the picture above to shop!
For grains, I love sticking to simple and quick options that I can make daily. Village Harvest Origins Collection is a great option for organic and non-GMO, 100% whole grain and gluten free rices! Village Harvest rices are a smart and simple meal solution that can be prepared in 90 seconds (microwaveable) and with 5 different varieties you don't have to sacrifice flavor:
Basmati & Lentil – India
Lemon Rice – India
Tikka Masala – India
Coconut Turmeric – Thailand
Thai Green Curry – Thailand
These are perfect for one pot meals with the addition of a protein (chicken, shrimp, tofu) and your choice of vegetables mixed in. A quick look at the ingredient label shows wholesome ingredients and lower sodium compared to other rice brands (definitely a healthier option in comparison). Plus, the quick preparation times makes them a perfect option for when your short on time.
A household favorite is the Thai Green Curry from Village Harvest. It's perfect with a handful of sautéed shrimp or chicken and veggies on the side! Thai Green Curry has a power packed dollop of flavor that takes meals from boring and powers them with a delicious, spicy and authentic flavor.
For veggies, frozen options are great for saving time and preparing with ease. Preparing a large salad (dark greens, onion, peppers, cucumbers) at the beginning of the week is a super easy, nutrient packed option for filling half your plate.
2. Simplify Snacks
Snacks don't need to be elaborate. Cut fruit with low-fat dips or hummus are filling and full of fiber, fruit and nuts are easy to grab and go, while hard-boiled eggs, jerky, greek yogurt and cheese sticks are all great high protein options.
3. Smoothies For On-The-Go Meals
When you don't have time to sit down for a meal, smoothies can stand in for a meal replacement. They only take minutes to prepare and are nutrient packed and full of antioxidants. Add a handful of greens (or a superfood green powder), fruit, greek yogurt and some protein powder and you have a liquid meal ready to enjoy while on-the-go.
4. Ditch the Junk Food
If it's not in the house, you won't be tempted to eat it. I find that when I have junk food in the house, I can't stop thinking about it. Avoid buying them (or limit it to your absolute favorite) and stock the house with smarter options.
5. Breakfast on Repeat
I try to simplify mornings and that means sticking to the same thing most days. This requires less brainpower while getting our morning going and also allows me to plan easily what ingredients I'll need to get through the week (while also not having to go through a food battle with the kids). If it's something you can prepare ahead of time, even better. Make a big batch and be all set for the week.
6. Double Your Dinner
Whenever I'm making dinner I always make at least a few extra servings so that we have leftovers for lunch the next day (or dinner a day or two later). Knowing that you don't have to make an extra meal and saving the time to prep another meal makes it a no-brainer.
7. Quick and Filling Grains
I always focus on adding a grain to our meals. Whole grains should be a part of a healthy diet as they may reduce the risk of health disease and may help with weight management as well. Adding a whole grain to your meal also helps to satiate your hunger and keep you full from longer which could help you avoid overeating or snacking soon after a meal. Often times, I'll prepare several varieties of Village Harvest Origins Collection so that I have a wide selection of authentic and flavorful grain choices. Eating healthy doesn't have to be difficult or boring and Village Harvest is a perfect addition to add some flavor to your healthy eating.
You can purchase and read more about Village Harvest products here!
---
What's your favorite meal that takes less than 15 minutes to prepare?
I was selected for this opportunity as a member of CLEVER and the content and opinions expressed here are all my own.